Hawaiian Lomi Lomi
It was a hot day typical for summer weather in Hawaii when I received a flyer announcing two Hawaiian Kahunas (healer) demonstrating the Hawaiian way of healing. I had just moved from Newport Beach to Hawaii three weeks before and I was waiting to transfer to the Psychology Department at the University of Hawaii when everything changed. Since I had been given this same flyer three times, I decided I'd better see what this seminar was about. I met Aunty Margaret and Nanna Veary at the Royal Hawaiian Hotel right on the beach.

I introduced myself to Aunty Margaret and asked her how could I learn this beautiful art of massage. She said "come and live with me on the Big Island and I will teach you". It was an amazing experience to be in the company of a well known Hawaiian Kahuna. Hawaiian Lomi Lomi is a sacred technique passed down through generations of healers and it was protected by the Hawaiians. It is a praying work. It is about coming from your heart and touching people with love and compassion. Aunty Margaret taught me to be God's instrument for healing energy and I learned to have a purpose of being of service to others.

I was inspired by the Hawaiians ability to listen with their heart to the needs of people who had pain in bodies. This has been my life's work and I have been dedicated to this form of healing for half of my life. Eventually, it led me to Rolfing®. I worked for an Osteopath for 10 years and one of his patients was Stacey Mills who was one of the first teachers of Dr. Ida's work. She was very influential on my journey to become a Rolfer®. I moved from Hawaii back to Newport Beach to go to the Rolf Institute in Boulder which was over 20 years ago.

In 1994, I went back to the Big Island for a vacation to swim with the dolphins. Swimming with wild spinner dolphins was life changing. It just so happened that the same place I studied with Aunty Margaret, was the same place I started swimming with the dolphins. It has been a magical experience with many stories of how the dolphins shared their love with me and taught me about opening up my heart. This was a very special blessing.

I also met Dr. Trager and trained with him when he lived in Hawaii with his wife Emily. They wanted me to teach Tragering but I was determined to be a Rolfer®. I was grateful for their recognition of my gifts and talents. I studied many techniques of healing which gives me the ability to assess a person's needs and meet them with the knowledge I have gained over 30 years of being in the healing arts.
I am grateful to all my teachers, clients and for the journey of a lifetime.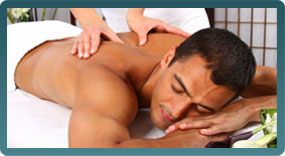 Pricing & Practices

• 1.5 Hours: $150
• 24 Hour Cancellation Policy